There's not a great deal of information on this page for those who are serious geneological researchers, but it does contain information back a few generations from our current one.
First, there is some information on the Andes family in Pennsylvania. The information is from memory of family members living at the time. Their recollections are presented as copies of original documents.
Following that, are some pictures of a few of those mentioned in the documents and some information on the foundry owned and run by Eugene Andes in Lancaster, Pennsylvania, until his death in 1931. According to family lore, one of the people he assisted and encouraged in the early days of the cast iron toy industry was John Hubley, of the Hubley Toy Company. The families remained close through the years and my uncle William's advertising agency did the Hubley advertising for decades.
My father, Thomas, worked at the factory as a young lad and recalls stenciling mailing addresses onto wooden crates of toys for shipment to Japan. Times change.
Family Tree by William D. Andes from about 1963, with some hand written updates in the 1970s.
These are notes made by Richard Andes, brother of William, around the same time. They are more extensive and include information also on the Jenkins Family.
And another geneology prepared by a distant relative, Dorothy Andes Nickel, of York, Pennsylvania. Her branch of the family descended from Francis Jacob and our branch from Valentin(e).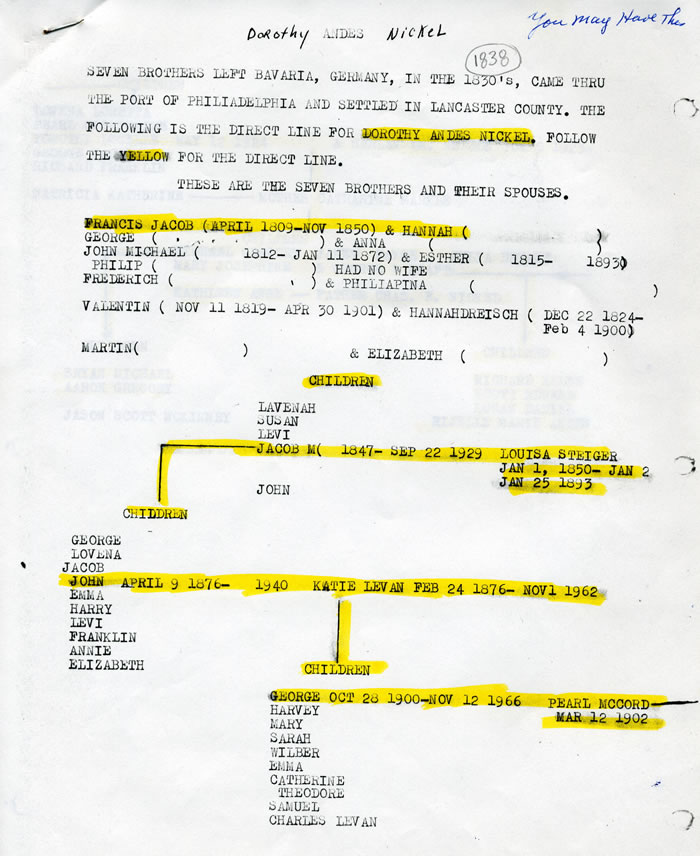 Grandfather, Eugene Benton Andes, was a "machinist" in the days when people of that trade made and invented machines. One of his early machines was one that made paper "caps" for toy guns. Earlier versions of paper caps were unstable and dangerous, and probably used firing caps similar to those used in weapons from the Civil War. The toy cap gun industry may have developed as a way for former gun makers and cap makers to stay in business. His invention improved the caps and led to changes in the formulation of the explosive powder in them and the later development of roll caps.
Andes operated businesses in Lancaster, Pennsylvania, from 1919 and until his death in 1930. He died of carbon monoxide poisoning while working on an early motor car, one of the first in Lancaster. The company started out making paper caps and cast iron components for Kilgore cap guns and cannons and later made cast iron toys such as wagons, airplanes, trucks, and autos. The company merged with Kilgore and Federal Manufacturing in 1925-7 and became American Toys, which operated for a few years until merger dissolved and Andes continued in business as Andes, Incorporated.
Here's a link to an article written by William Andes about the Foundry. It was written for the Lancaster History Museum, and focuses on the toy cap guns and caps, but the foundry made other toys, too.
This is a patent from December 1922 for a cap pistol that fired a single cap. According to my father, Thomas, the pistol was different from others on the market in that it has a flange around the hammer so that sparks and debris from the exploding cap are directed forward. This feature came about because children of the time when playing with cap pistols would hold them up to their eye to "aim" them, as they saw actors in movies do and the result, because the caps of the time were larger with more explosive power than later, was an epidemic of eye injuries in children. Here's the original patent and a photo of one of the guns made from this design. This particular model was named "Oh Boy" and got the name when grandfather showed a prototype to my father, who exclaimed "Oh, Boy" when he saw it. This same design was duplicated in China and we found a basket of them in the Museum Shop of the New Mexico Natural History Museum in Santa Fe when we lived there. The copy was pretty rough and had a patina to suggest it was antique and but included the Oh Boy name and the Andes Foundry logo. A photo of that copy is below the picture of the original. Flattery, as it is said.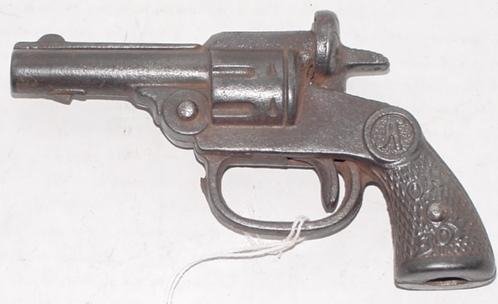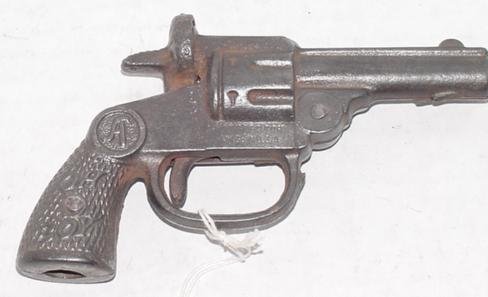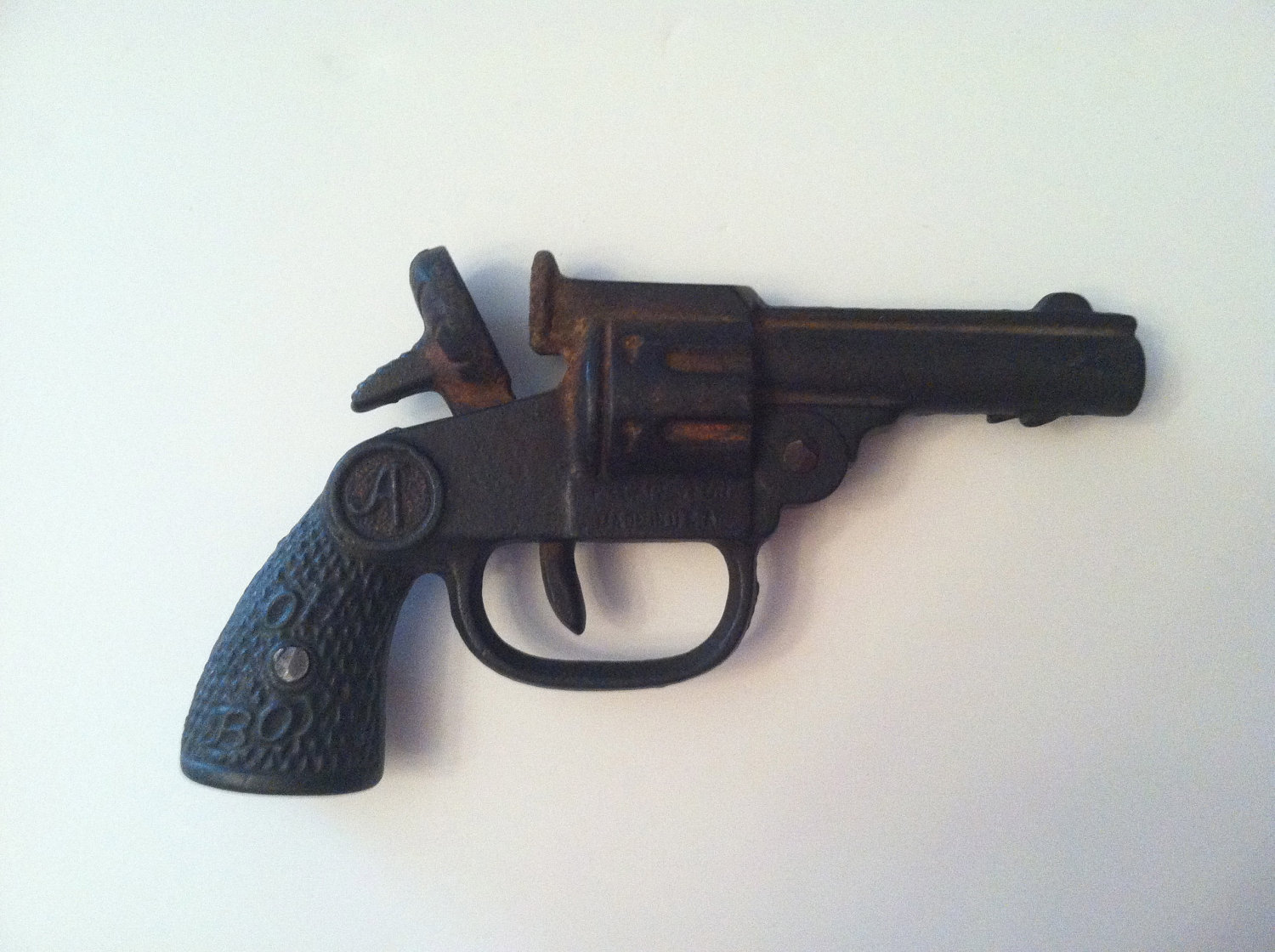 Another patent from 1922 for a pistol using the new roll caps made by the company, and a photo of the pistol made from the patent design. The photo is from the article written by William Andes, above.
And here are some pictures of various cap guns of the time. There are some single shot guns without the protective flange on the hammer, so you can see the danger. Later, other toy gun makers copied the patented design, but Andes never enforced the patent rights as he was more concerned for the safety of children playing with any toy cap pistol. And there are also photos of other guns using the roll caps, which soon became universal.
The Foundry after the fire.
Following are some pictures of people and places mentioned above.
The first is of Eugene B. Andes and his son, Thomas Eugene Andes, of Lancaster, Pennsylvania. The second is of Eugene B. Andes II, grandson of Eugene, son of Thomas, with his three sons, Thomas Eugene Andes (II), Richard Charles Andes, and Robert Coleman Andes. The decendant generations seem less formal, at least in dress.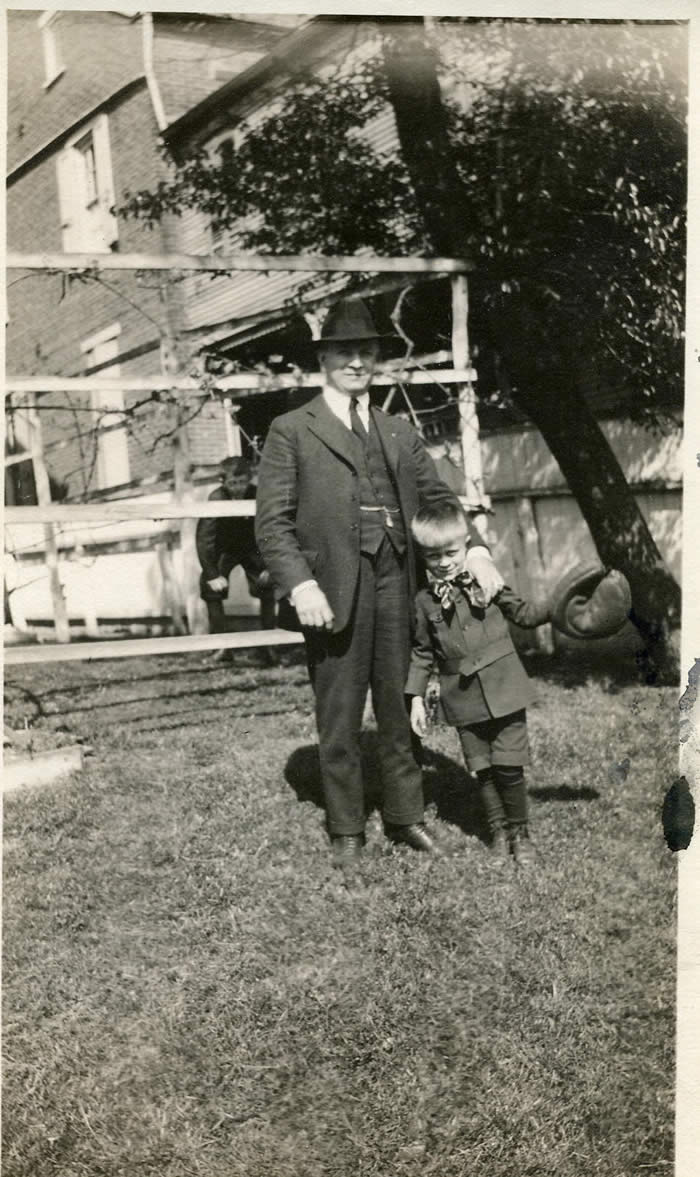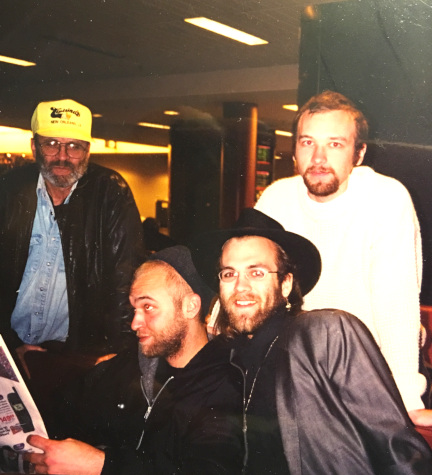 Grandmother, Mary Estelle McCaa Andes and her grandson Eugene Benton Andes II. Picture probably taken on a visit to Thomas and Orpha in Florida during WW2, when Thomas was stationed there briefly at an Army Air Corps base. Mary Estelle was accustomed to the good life and after the death of Eugene in 1931, she never really adapted to her "reduced circumstances" according to my father. She had to clean her own house and cook for her family, neither skills she ever fully acquired. I remember her as a rather stuffy, formal old lady, who sold antiques from her home in later years. In the picture, she seems a bit over dressed for the beach.
And a second picture at the beach. Having a great time.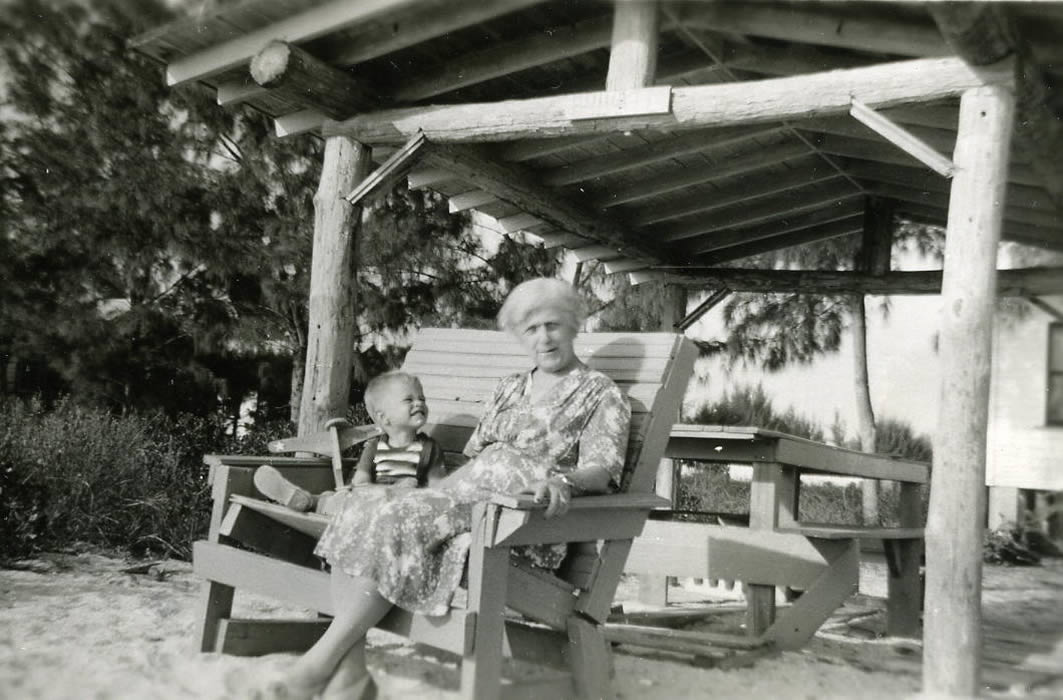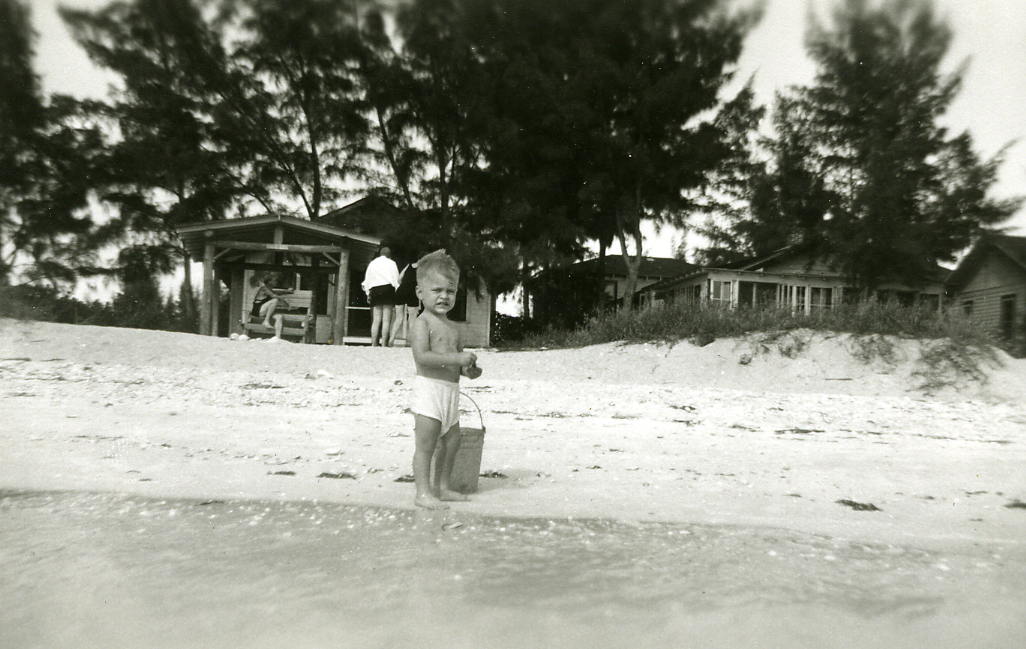 Thomas was sixteen years old when his father died of carbon monoxide poisoning and the family circumstances changed. He attended Franklin and Marshall College in Lancaster, as did most of the men in the family, and while there, he decided that he wanted to become a physician. That goal was first forbidden by his mother as his older brother Richard had already decided he wanted to be a doctor and "one doctor in the family was enough". So Tom, who was active in the theatre at college then announced that he would become an actor instead, and thus got permission quickly to pursue medicine as a career.
Thomas went to Temple University Medical School and while there on rotation through University of Pennsylvania Hospital, he met Orpha Leach, who was then the head nurse of the Obstetrics Unit there. She had trained at Muhlenberg School of Nursing in New Jersey and as a student nurse had helped care for victims of the Hindenberg disaster. After dating a while, they married in secret, in 1939, as nurses were not permitted to be married at the time.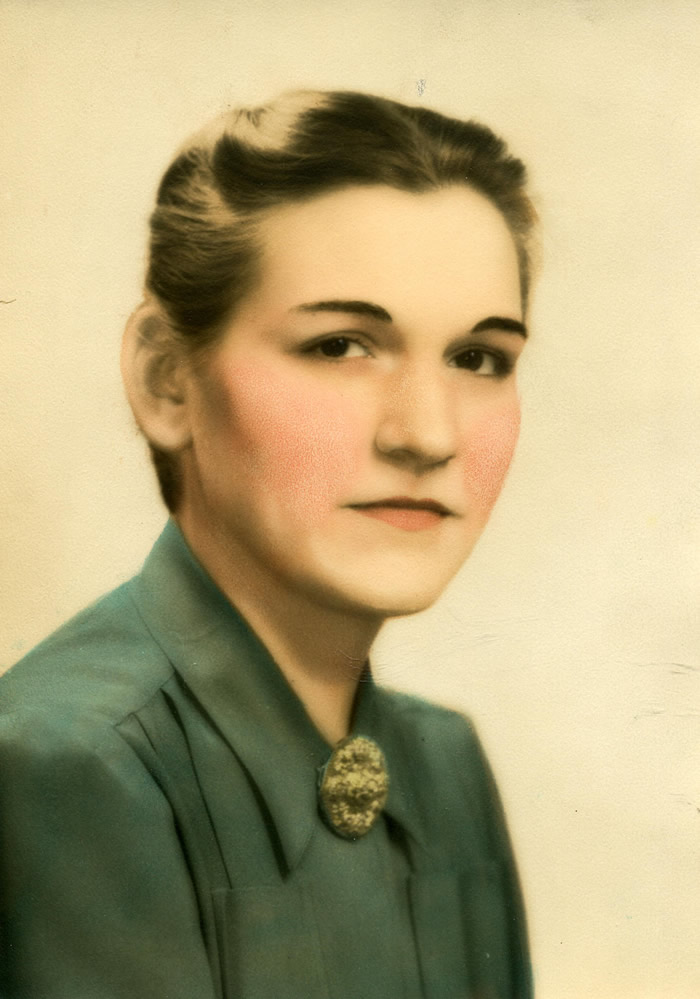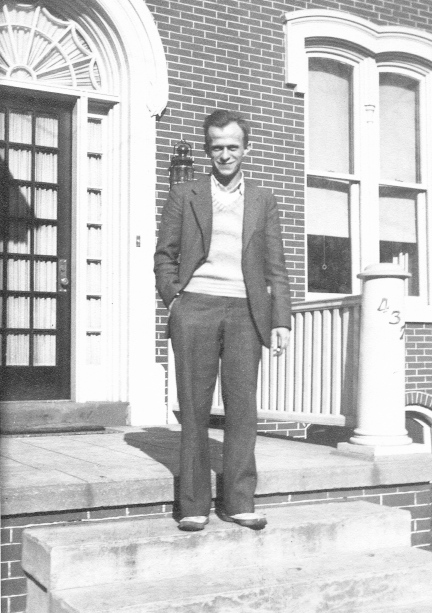 Orpha Kathryn Leach was from Lemoyne, Pennsylvania, across the Susquehanna River from Harrisburg, the state capital. Lemoyne was an early bedroom community as it was on the western end of one of the early bridges spanning the river and replacing the earlier ferries. Lemoyne was first named Bridgeport and later Riverton, becoming Lemoyne in 1905 when it was granted its first post office and became a "borough". Samuel Bowman Leach was an early resident of Lemoyne operating a concrete business there from early in the 20th century until retirement in the 1950s. Orpha was one of eight children and was an avid tennis player in her youth. Her father even constructed a tennis court on the vacant lot adjacent to their home for her to play upon. Samuel had been widowed twice, his first wife dying after the birth of the fourth child and his second dying after the birth of the eighth. Orpha had been raised by her step-mother, Samuel's third wife, Sarah Jane.
When Thomas graduated from Medical School, he applied to the training program in surgery at the Mayo Clinic, but was not accepted. Instead, the couple moved to Leaksville, North Carolina, where he began an internhip at the hospital there training in surgery under a prominent local surgeon, Dr. C.V. Tyner, in July of 1941. Below is a picture of the hospital at that time, and a photograph of the house provided to the couple by the hospital.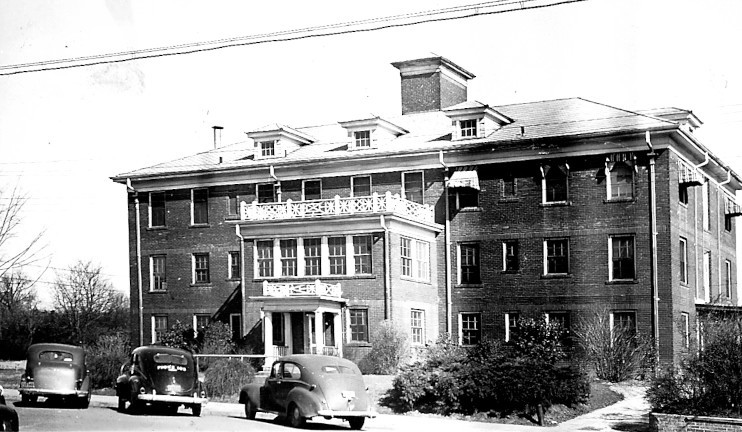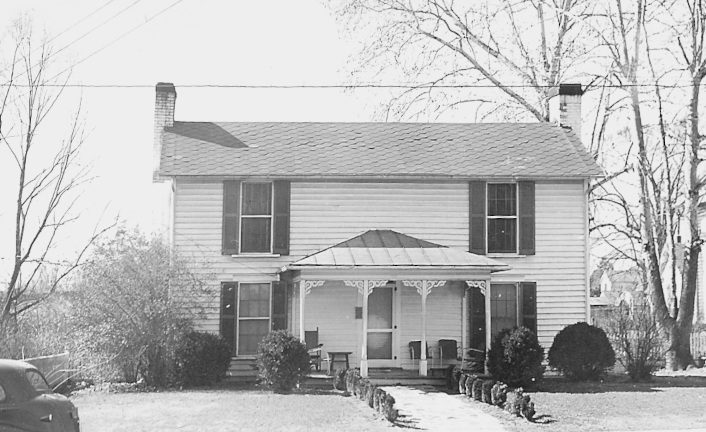 With the start of WW2, Thomas enlisted in the Army Air Corps and began his service in mid 1942. Orpha, pregnant with their first child, remained in Leaksville unti delivery and later relocated to Pennsylvania to stay with family until Thomas' return.
Here are a few pictures of Thomas during his time in North Africa. His group supported the Army Air Corps as it fought Italian forces across Africa to Tunesia. The fighter aircraft were P-40s, as in the picture below. Some wings operated medium bombers, later in the campaign. The monkey was a pet, named "Queenie", here posing with Thomas beside an ambulance.
There is one "war story" from that time, about an incident that happened in Libya and a connection made many years later between the children of those involved. You can find it here.
And here's a picture of Thomas and Orpha together with his older brother Bill and his wife Dorothy at a night club celebrating Tom's safe return.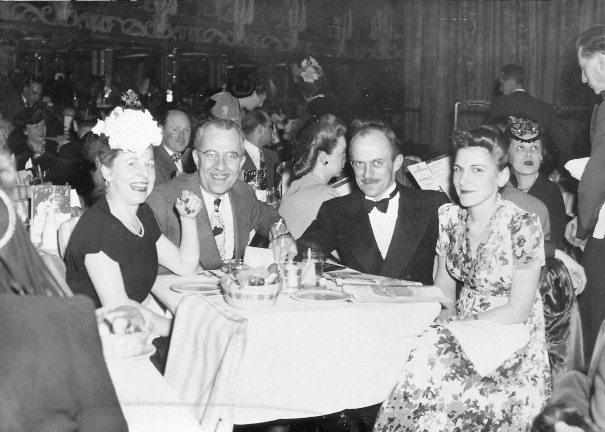 After the war, Thomas spent another couple of years in the Army Air Corps. He was stationed for a time at an air base in Florida and later in California. The family lived in Cosa Mesa, which was at that time a small rural town. Thomas started raising chickens at the house and in theose days of meat rationing, soon had a pretty brisk business. And lots of chickens. The family ate chicken often. Orpha recalled that reading the popular book of 1943, "Chicken Every Sunday", reminded her of those days, although they did not take in boarders.
After discharge from the Army, Thomas practiced for a time in Lancaster, Pennsylvania, but soon decided he wanted to specialize in Psychiatry. The family moved to Harrisburg, Pennsylvania, to the State Hospital there for his training, and later moved multiple times as he advanced the career ladder. We lived in West Virginia, North Carolina, Kentucky, and Massachusetts and along the way the family grew by adding a brother, Sam, and a sister, Karen.
The final job was at the Gardner State Hospital in Gardner, Massachusetts. The hospital was the site of a former "State Colony" for those with mental illness and had been designed as a self-sufficient entity, with its own rail station, power generation, extensive farming operations, and food preservation and storage capacity. The "ice pond" was still there and and "ice house", but no longer used for ice making and storage. It made a great pond for fishing and model boat sailing. Gene spent many days roaming around the hundreds of acres of fields and woodlands with the family dog, "Sport", and sailing model boats on the pond with a neighbor friend, Bill Cordes. Bill's father, Warren, was Gene's introduction to model ship building, as told here. This is where and when Gene acquired his love of New England weather and the countryside. And interest in ship modeling. Jeeps came later, as you will see.
Photos below show the family dog, Sport on the left. On the right is a picture of Gene and Bill Cordes launching one of Gene's early boat models. In this case, it was a scratch built motorized trimaran based on a vessel shown on the dust jacket of a book "The Phantom Shark", by John Blaine, one of the Rick Brant "science and adventure" series, from around 1949.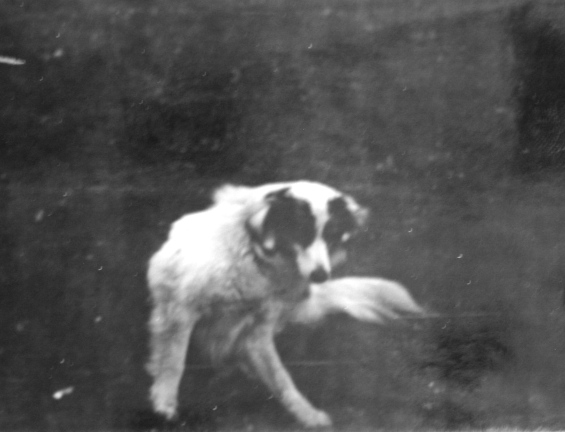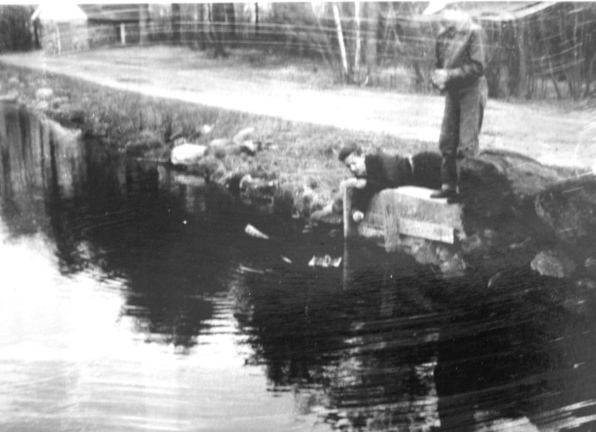 In 1958, the family moved from Massachusetts to Pennsylvania as Thomas' health had deterioriated to the point he could no longer work. Thomas and Orpha chose to settle in Lemoyne, and found a house just a block or two away from two of her siblings and close to many more of her extended family. Thomas died later that year and Orpha returned to work shortly thereafter and lived in Lemoyne until her children had completed college and graduate schools before selling the house and moving first to an apartment in adjacent Wormleysburg and later to a retirement communnity in Mechanicsburg where she lived to the age of 93, dying in 2008.
Gene finished high school in Pennsylvania, and in high school and college worked summers at a Lutheran Church summer camp in Biglersville, Pennsylvania. He worked on the "Grounds Crew" at Camp Nawakwa. And, although he and Ellen Coleman had been acquainted at Cedar Cliff High School, it was at that camp that they had their first date. Which went badly enough that there was not a second date for nearly four years.
Here's a picture of the Jeep used by the groundskeepers at Nawakwa. It was a civilian jeep, a CJ-2A from about 1947 that had been converted to a small pickup truck by Mike the blacksmith who lived and operated his shop about a mile down the road from the camp entrance. Riding around the grounds in that jeep was when Gene first fell in love with Jeeps, so he has Nawakwa to thank for finding two of the great loves of his life.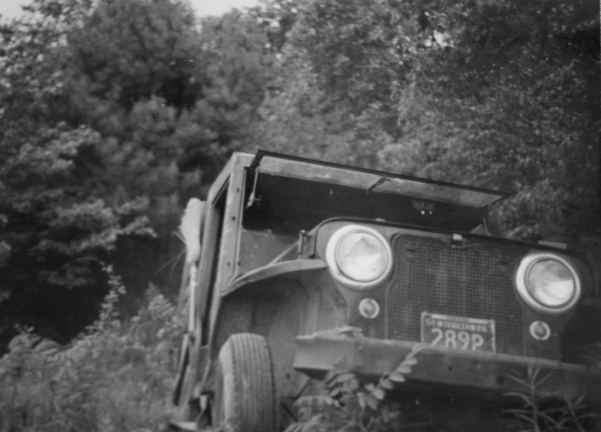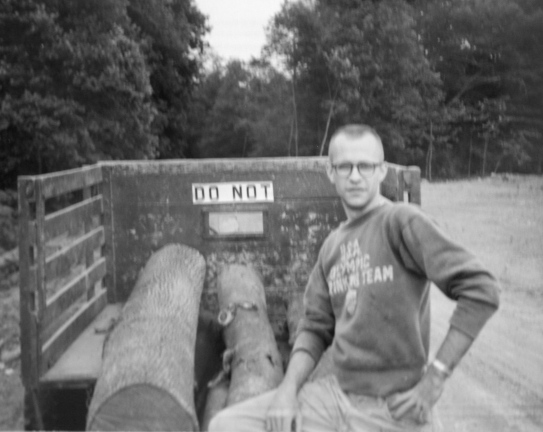 And this is an excellent transition to Ellen's family story.
Ellen's mother Clara Annetta Dyer Coleman was born 1907 in Gilberton, Pennsylvania. At that time, Gilberton had a population of about 1,000 people, all Caucasian: Irish, English, Welsh, Hungarian, Lithuanian, and Polish, first or second generation immigrants, who had come to work in the coal mines.

Clara had two brothers, Lewis, born, 1911 and John , born 1918, and one sister, Edna born 1909.

Clara's father was Charles Dyer, who worked in the colliery in Gilberton, and her mother was Clara Hinkel, a homemaker who also played the piano.

Mary Elizabeth Hinkel (Aunt Mame) born 1889 was Clara Hinkel's sister, Clara Dyer's aunt. She wanted to be a nurse, but her mother forbade it because "No decent girl would want to go in training to be a nurse". Her mother also found fault with every suitor, and Aunt Mame never married, but instead shared her love and joyful spirit with all her nieces and nephews. She lived and worked most her life in Philadelphia and died there in 1990.

In 1924 Clara Dyer began a two year study program in Secondary Education at the Keystone State Normal School and switched to a three year program in Library Science, graduating in 1927. In 1931, she returned to the college, now the Keystone State Teachers' College and completed a Batchelor's of Science degree in Library Science in 1935. Keystone State is now Kutztown University, where there is a scholarship in Library Science named for Clara. Soon after graduation, she found a job as a teacher and librarian in Hegins, Pennsylvania, a farming community about 20 miles southwest of Gilberton, where she met Bob Coleman.

Bob was born 1910 and was from Hegins. He had graduated from Franklin and Marshall College, Lancaster, Pennsylvania, with a degree in chemistry/chemical engineering, but had a hard time finding a job in the depths of the Great Depression. Bob and Clara dated for a while and married in October, 1935, but kept the marriage secret because teachers were not allowed to be married at the time.

By 1936, the couple could announce their marriage, had moved to Lemoyne, Pennsylvania, and Bob was working as a chemist in the Pennsylvania Department of Highways Laboratory in Harrisburg. Their son Jerry was born in 1938.

Ellen was born in 1943 by which time the family was living in New Cumberland, Pennsylvania and Bob was working as a U. S. Postal Clerk in Harrisburg. They had moved there after living for a time in the Philadelphia area when Bob was working as a chemist for the Gulf Oil Refinery in Philadelphia. He had decided that a job with Civil Service protection was especially desirable for a family man. He rose through the ranks in the Postal Service, ending up as one of the half dozen or so area managers with responsiblities and headaches to match. He help implement the new Postal Code (ZIP) system in the 1960s.

Jerry married Colette LaVanture in 1959.

Ellen married Eugene Andes in 1965.

Bob retired in 1971 and Clara and Bob moved to Sun City Arizona at that time. Bob died 1979 at age 69. Clara moved in 1980 to a Retirement Community in Peoria, Arizona after Bob's death.

Clara loved travel. She and Aunt Mame made train trips and, later, driving trips to many places across the U. S. in Clara's Ford roadster. She and Bob also traveled extensively together, visiting all fifty States and Europe, and continued to travel together after they retired.

In 2001, Clara moved herself from Peoria, Arizona, to a Personal Care Home in Millersburg, Pennsylvania, where she spent the rest of her life. Not quite back in Schuykill County, but in adjacent Dauphin County, along the Susquehanna River 25 miles from Hegins and 45 miles from Gilberton, so she was home. She lived there until she died in 2012 at 104 years of age.

The pictures below show Bob and Clara around the time they retired and moved to Arizona and Clara at age 100.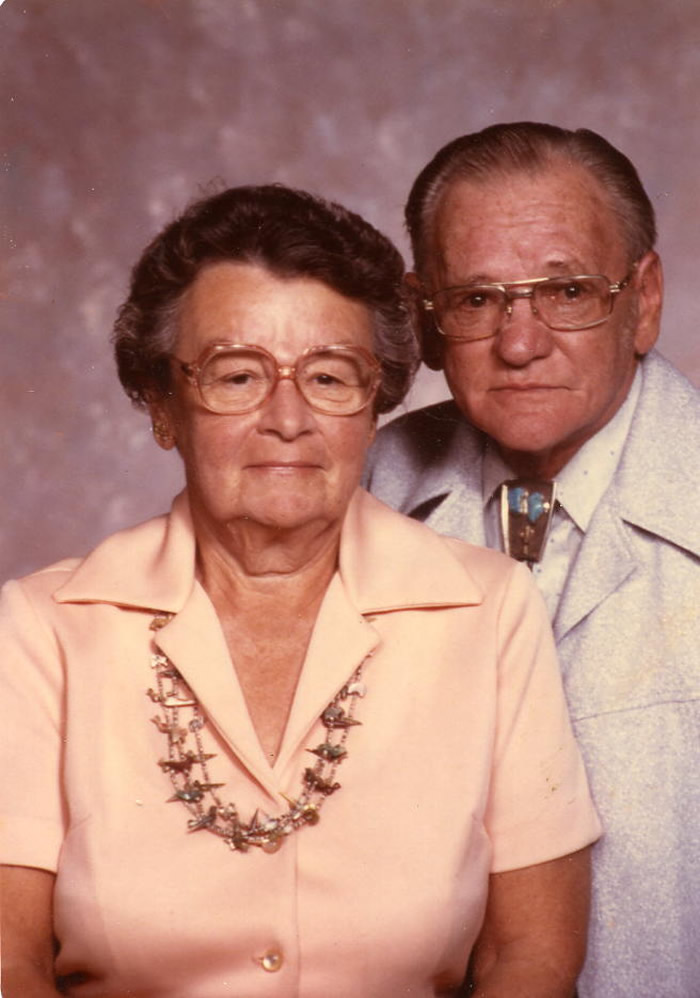 Clara, with Aunt Mame's help, did extensive geneologic research on her and Bob's families, tracing ancestors back to origins in Germany. Copies of her research are available to interested persons.
Following are a few photographs from Clara's collection. The first shows the couple in 1935 standing by Clara's Ford Roadster. The second shows them in 1947 on one of many family camping trips.
Bob as a college student and during a trip in 1947 back to the family farm in Hegins.
Clara and her mother in 1942 and Clara with her children, Jerry and Ellen, in 1947.
Ellen and Clara on a visit to Pennsylvania and a picture of Clara's 100th Birthday party.
Photo of Bob and Clara with Jerry and Ellen and their spouses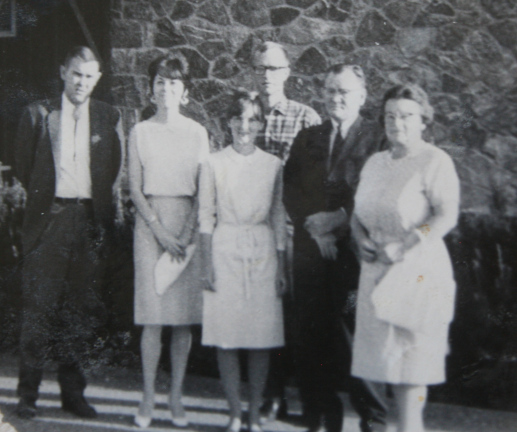 Ellen and Jerry had pretty typical small town childhoods with plenty of camping trips with extended family and visits to aunts, uncles, and cousins. Here are some photos of Ellen and Jerry through the years and some of Ellen and her best friend, Barb. There are a couple from Camp Nawakwa summer camp and some of her as a harpist.
Ellen was a skilled harpist and entered college as a music major but ended up a German major. She entered graduate school in German but soon traded that career track for Library Science. Ellen got her Masters in Library Science in 1967 and has worked much of her life in various library environments including public libraries, middle school, high school, college, and university libraries. She gave up playing the harp after we moved to rural New Hampshire because the commute to lessons was too great and she wanted to devote more time to her new life there. And, before long, to her family.
The final picture is of a practice room at the Santa Fe Opera. A reminder of past days.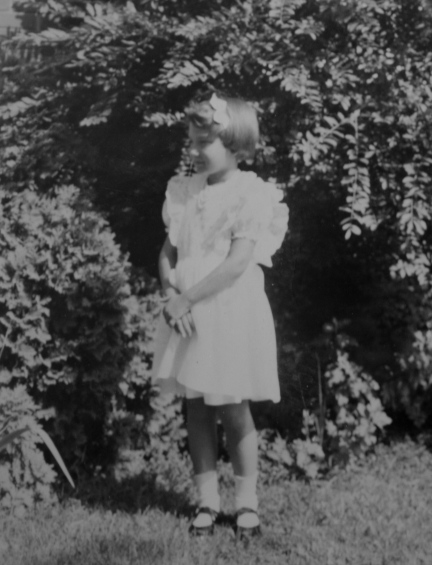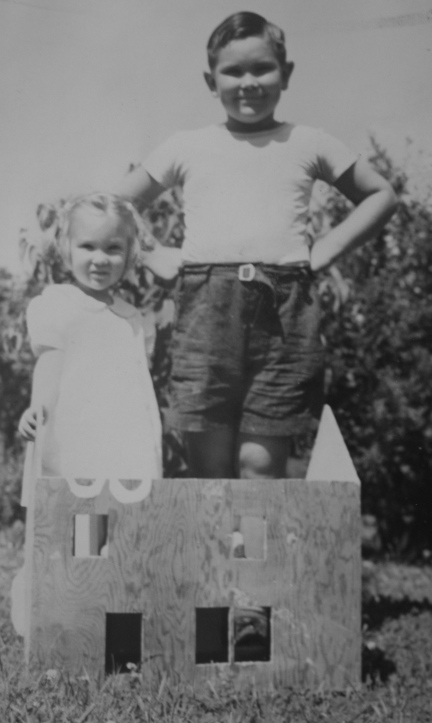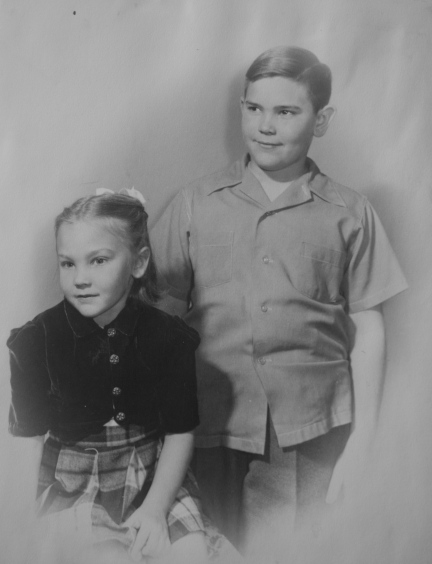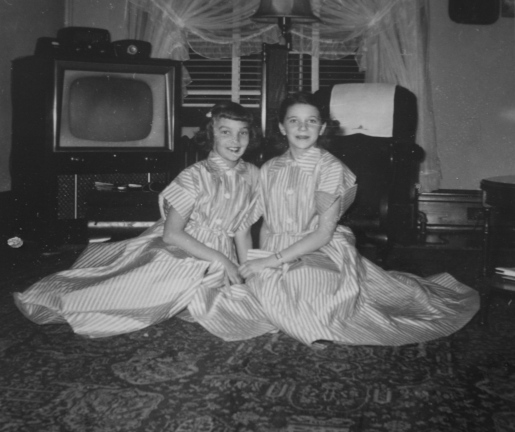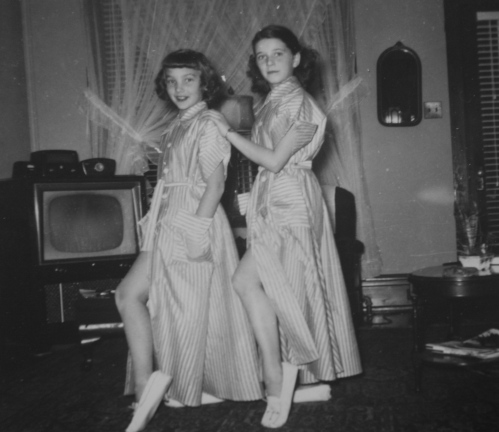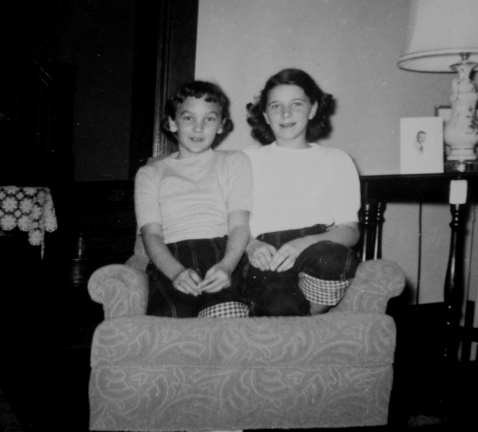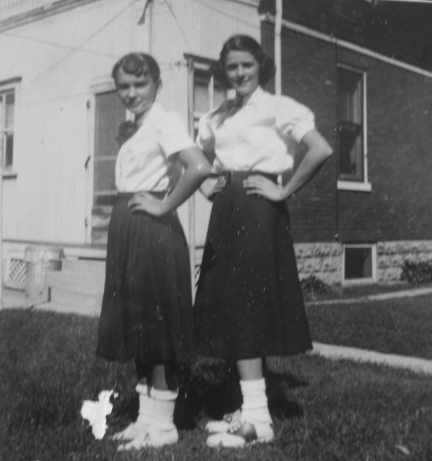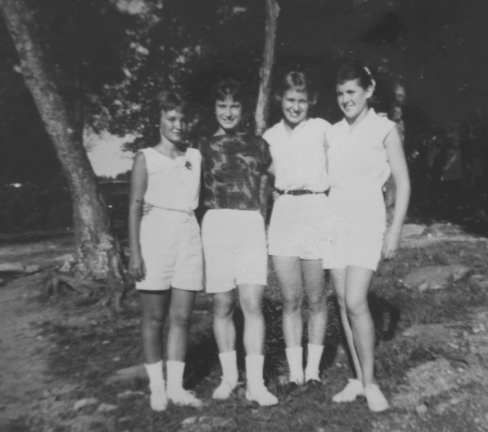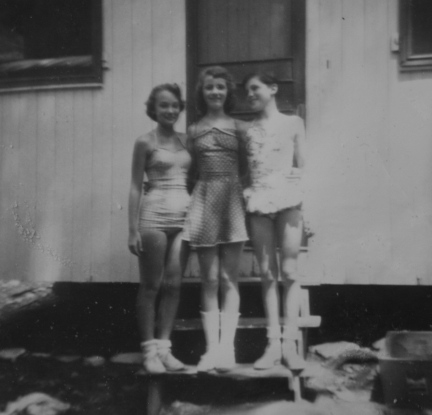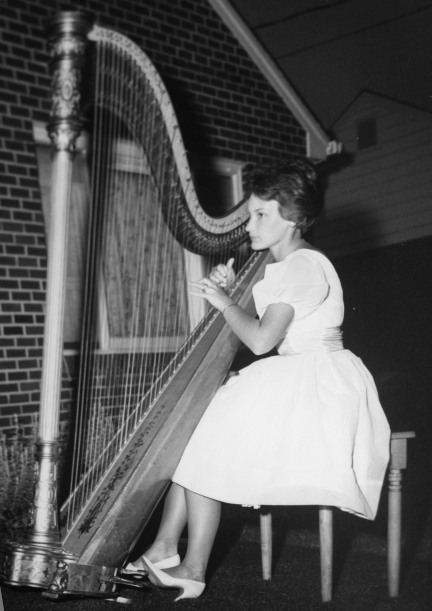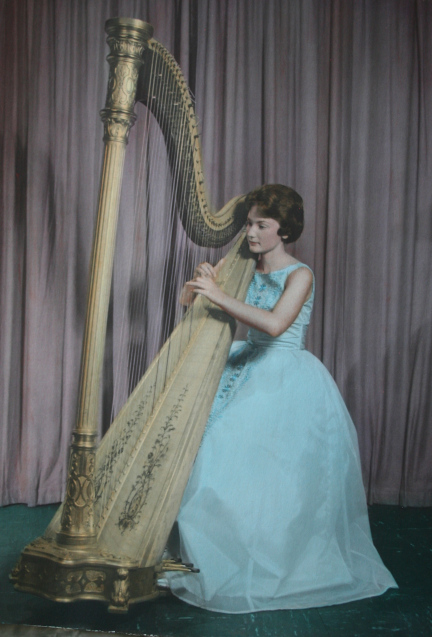 A harpist, or the spouse of one, will appreciate this picture.