Gene was taught to knit by his mother when he was about 11 years old and his first project was to knit some "chain mail" armor for an armored knight outfit he was working on. The armor, of course, to be cardboard. The project was pretty unsuccessful and never completed. And the wool used for the knitting never looked right anyway.
In 2016, we did some knitting of "chain mail" for the Santa Fe Opera costume shop for the production of "The Golden Cockerel" in the 2017 season. We had been volunteering at the shop for several years and a call went out for volunteers at the end of the 2016 season to knit panels from nylon seine twine to be made into chain mail. The folks at the costume shop were more savvy than I was at 11 and they heat-laminated the knitted twine with silver mylar to make the costumes. And they looked pretty good and realistic for the minute or so they were on the stage.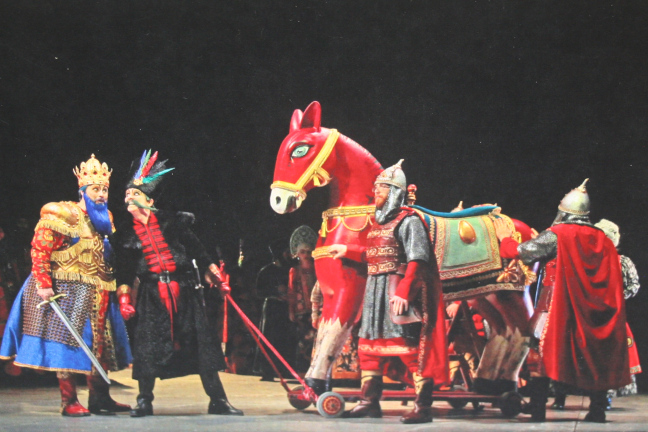 A full circle, of sorts, as shortly thereafter I gave up knitting when it flared up some arthritis and gave me a painful wrist.
In the time beteen the mid 1950s and 2018, I did some knitting at the farm when we first started having our fleece spun by Bartlett Yarns and later helped out in the Yarn Shop and did some knitting there and some teaching.
We both did a lot of knitting in New Hampshire and made many sweaters of wool and mohair. We even published a pamphlet of knitting patterns for Elite Yarns. You can see that on our Publications page. Most family and friends were well supplied with sweaters and scarves and hats and shawls by the time we went to Saudi Arabia, although we did resume knitting upon return. Add that to all the woven projects that family received coupled with the fact that all our children live in warmer places and you can understand that our need for knitted things declined but our output, if anything, increased. One of our sons and his wife took up knitting, problably a defense against getting more sweater gifts.
Here are a few picture of my last knitting projects.
The first is a photo of a cable sweater and a cable hat. I did about a dozen cable sweaters in original patterns, mostly from Vanna's acrylic yarn. The patterns were often experimental, as in the second one shown here, which was knitted on the diagonal. The hat pictured is a simple watch cap knitted with five cables. Many of these latter sweaters and hats and scarves were given away when we no longer had room for them.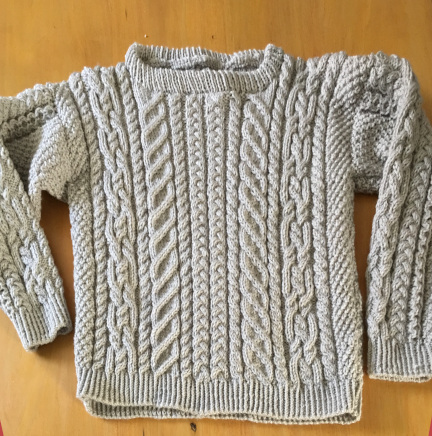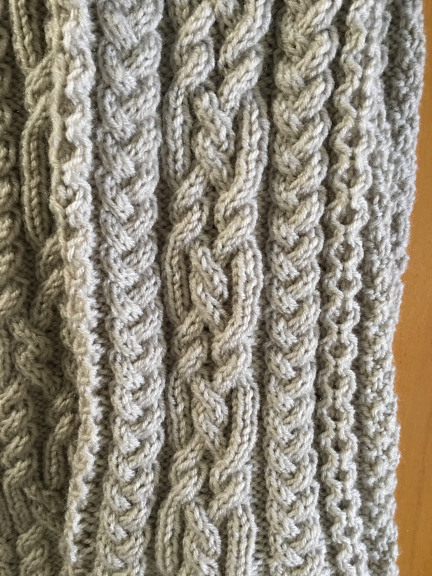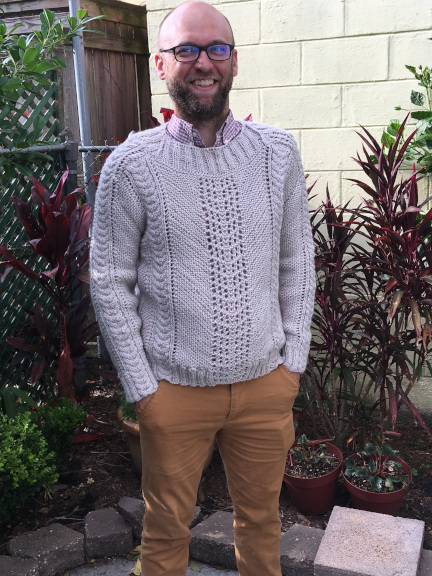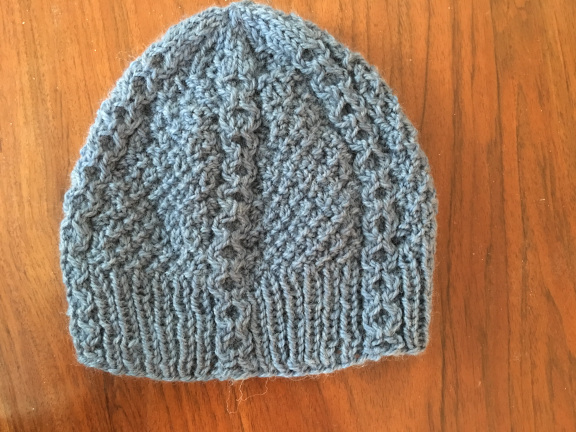 In 2017 I knit a number of shawls from sock yarn, mostly working in circular patterns using short rows to connect them or shape the shawl. Here are some pictures of some of those shawls. The pictures were taken using one of the mannikens from the Santa Fe Opera Costume shop.
This shawl was called "Starry Night" and was made by knitting many small circular pieces and then hooking them all together with a background color using lots of short rows.
This shawl, "Fireworks" was similar in technique to Starry Night, but used multiple colors in each circular motif.

This one is called "Firebird". There are a couple of shots of the finished shawl and some of the central bird motif in progress. After this one, I made a couple that were similar but used a dragon figure instead of a bird.

Here's one of the Dragon shawls. The "story" of this shawl is that there was a solar eclipse (as happened around the time that this shawl was made) and the dragons took to the air to breathe fire at the darkened sun to re-kindle its flame. In the photo, the solar eclipse is on the left shoulder, and the fire-breathing dragon on the back.

I also made several sweaters in the same material and technique, mostly with a "dragon" theme. Here's a picure of one of those.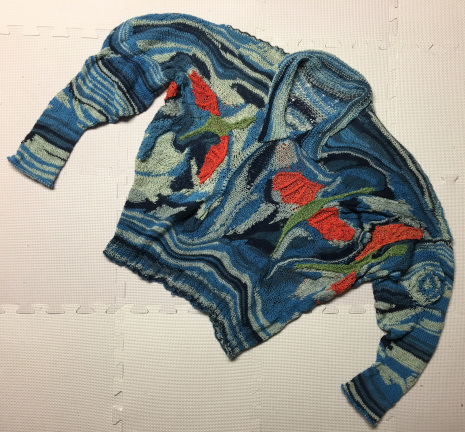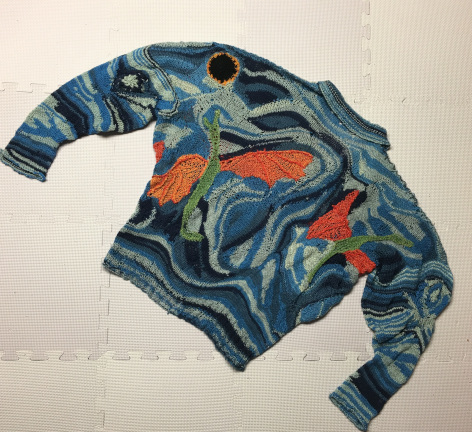 I have always been a sucker for tacky yarns and had acquired quite a collection of various such yarns in tasteless colors. There were a dozen or so assorted skeins of "ruffle yarn" as well as fringe yarn, metallics, and various other inexpensive knitting yarns generally picked up on clearance. I decided to use them up over a month or so of intense knitting, making up scarves / shawls by combining them with assorted other tacky yarns, usually metallics or bright colors.

Here are some pictures of some of those. They also ended up given away, in this case, to the Costume Shop. There are also a couple close ups and several showing that some of these were the same on both sides and some not. I knit a ground of stockinette stitch with which I picked up the edges of the ruffle or other decorative top layer yarn and shaped the horse collar by increasing the number of stitches every row or every other row.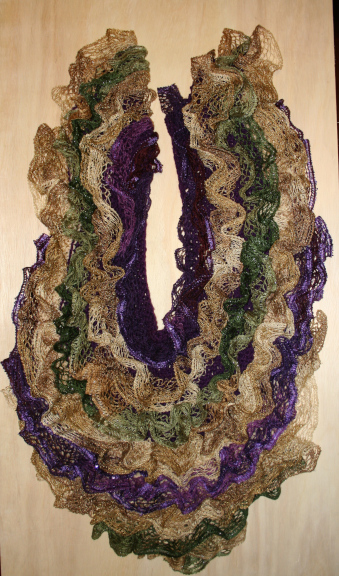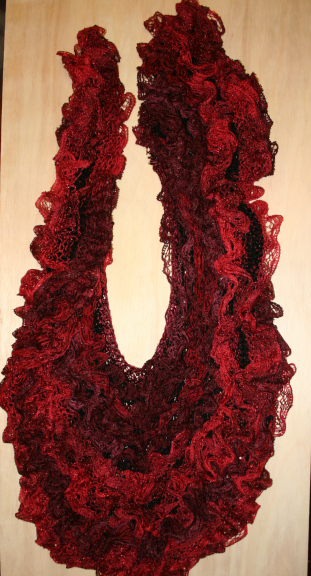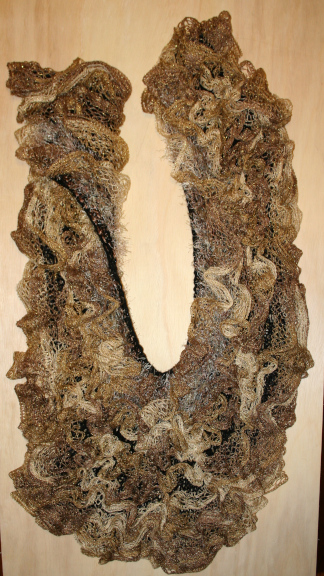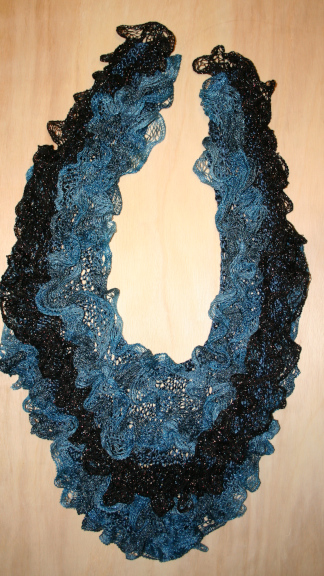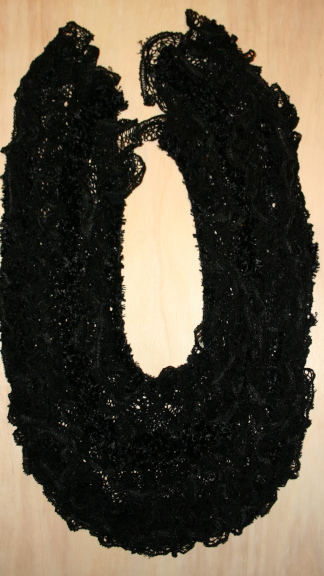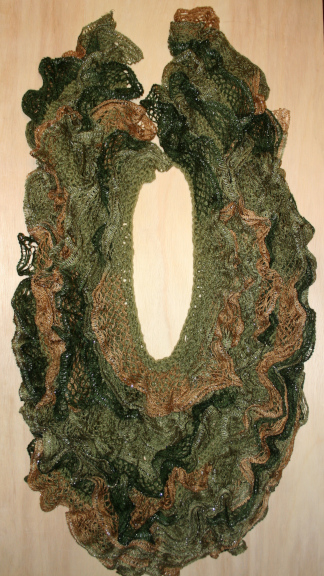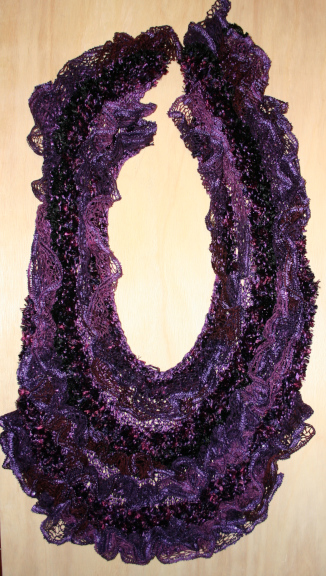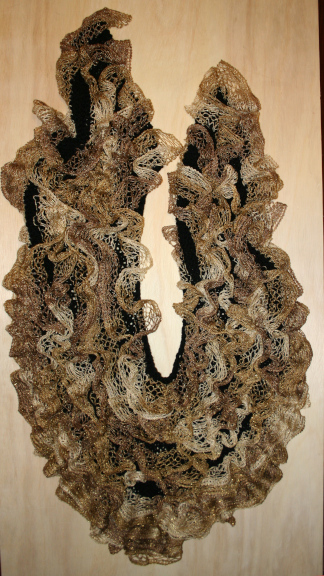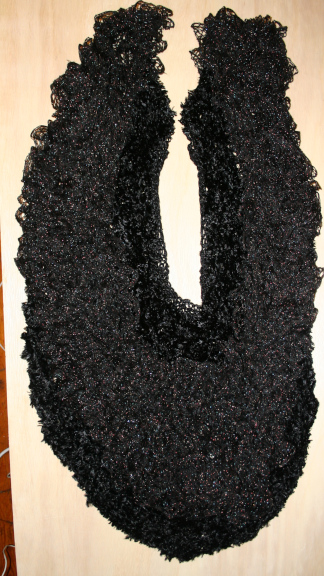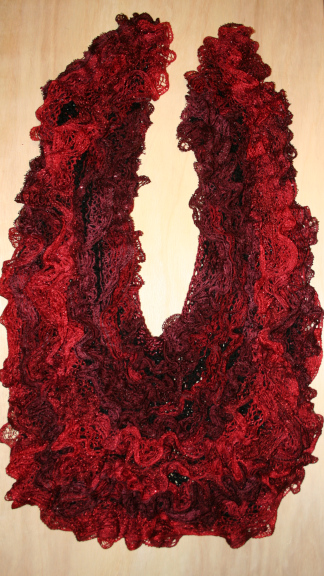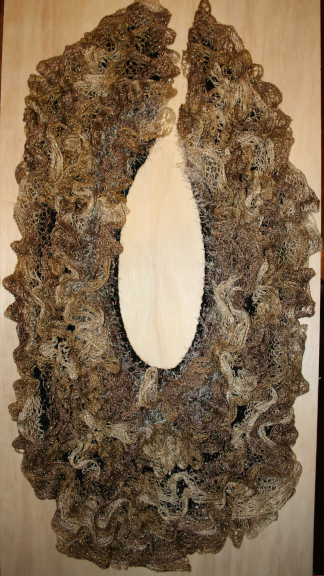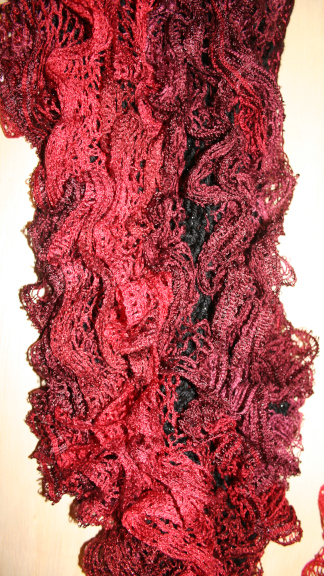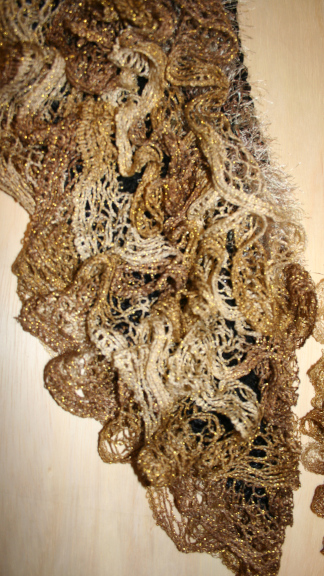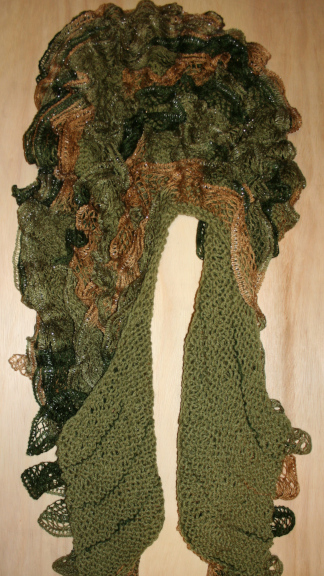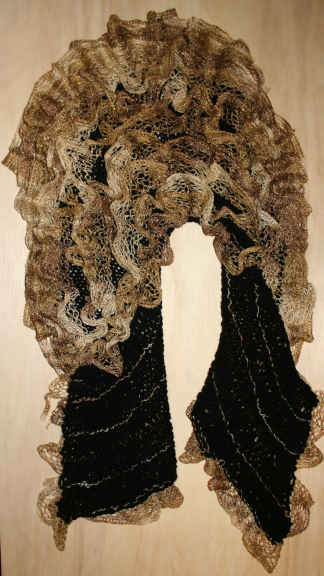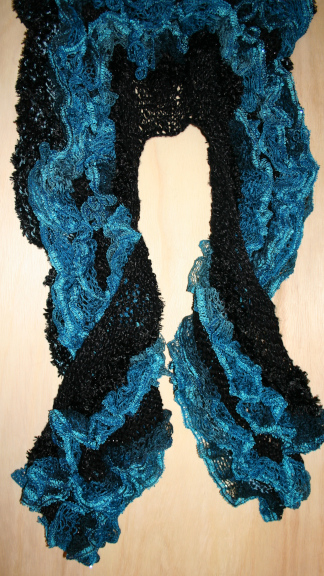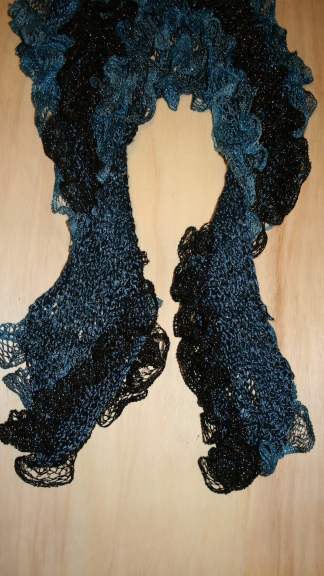 That's about it for my knitting. I never was one to follow patterns, and if I found a pattern I liked, I usually converted it to be done entirely on circular needles. For cable sweaters, I just started with a number of stitches for the size swearter I wanted and divided that up into intervals for the different cable patterns I wanted to include. Mostly I used cheaper yarns. Ellen's knitting was much better, as she used good yarns and made fine garments, usually working from a pattern.