When we first married, we each had hobbies and interests that we brought with us. But soon, we consciously decided to find activities that we could do together or at least in proximity, sort of like the "parallel play" stage of toddler socialization. We also made sure to maintain our common interests, such as a love of music.
As part of the process of finding activities we could do collaboratively, Ellen settled on learning to weave and Gene decided to pursue woodworking. After finishing school and relocating to New Orleans, we soon acquired our first loom, an old 4 harness counterbalanced loom, that we kept for decades. After some months in New Orleans, an artist friend approached us about sharing a small shotgun house she was using as a studio. We soon moved the weaving and Gene's fledgling wood working activities into the back of the house. When our friend moved on to a better studio, we we rented the whole house to use as a studio, and expanded the wood working into the front part of the place, a former neighborhood store. And expanded the weaving related equipment and supplies, too. We kept that little house/studio until we left New Orleans a couple of years later.
Here are some pictures of that first loom set up in that first studio. The loom had a sectional warp and came with a warping stand, so it was particularly good for doing the rugs that were the first projects.
In the samples shown below, the first shows a rug with both cut and uncut pile rows. The rest are with cut pile, except the last which shows the cut pile combined with a pattern of chained uncut pile weft yarn. All the rugs shown were about 36 inches wide and varied from four to seven feet in length. Because the yarn used was commercial rug yarn, it was permanently moth-proofed and many of the rugs traveled with us until our next-to-last down-size, when all but one were given away.
Perhaps the best thing about our little studio house was that directly across the street, in another former neighborhood store, a butcher shop, a sculptor, Mike Price, had his studio. Because he and we all kept late hours, we became acquainted and then friends. And we met his girlfriend, later wife, Susan. There's more about our friendship with Mike and Susan in the page about our first time in New Orleans. Mike went on to teach at Hamline University and had a long and successful career as a sculptor.
Here's a picture of the former corner store that was Mike's studio. He lived in the back. This picture is from a visit to the neighborhood in 2012 and was taken for Susan.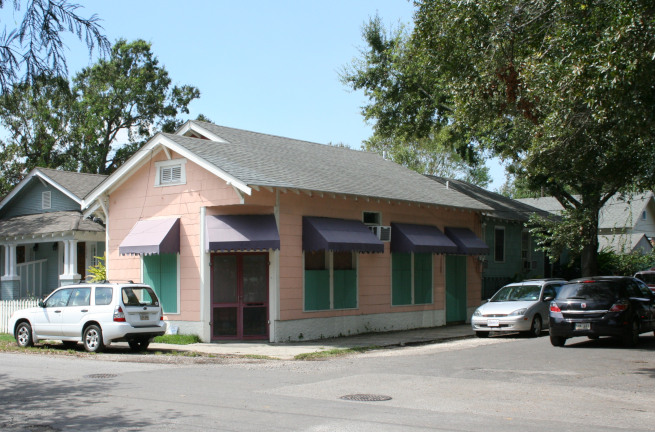 When we moved to New Hampshire, both of us continued to make rugs and experimented with traditional flat-woven, weft-faced rugs in simple patterns as well as some tapestry techniques. We even made about a dozen rugs using the "punch needle" technique and some Aunt Lydia's yarns. We did a series of these rugs using old printers' logos, which Ellen had researched for a paper in graduate school. Here's a picture of one of those rugs, a copy of the trademark of William Caxton, one of the earliest printers in England in the 15th century. Not exactly weaving, perhaps, but an example of how the different parts of our lives and experiences connected from time to time. This is a picture of the original printer's mark of Caxton from about 1475 and the rug made from it. We later gave the rug as a wedding present to Mike and Pam Renner. We had known Pam in New Orleans when she was a student at University there, and re-connected in New Hampshire where she came with Mike in the summers to run a drive in movie theater in nearby Ossipee. We had many fun times with them.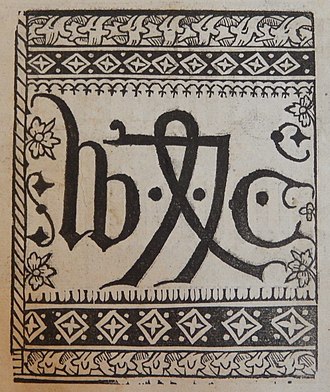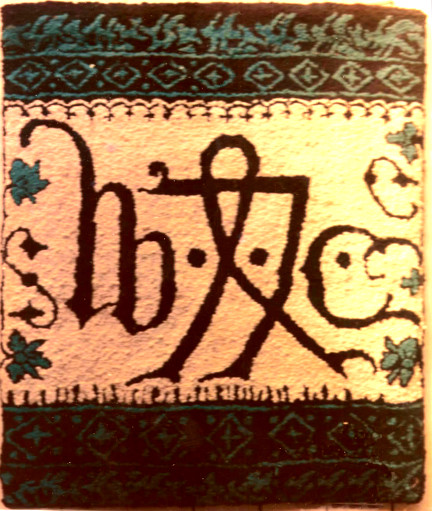 But very soon we became more interested in making traditional cloth as well as rugs and attempted some overshot weaving. That did not go well, and we realized we needed some guidance and assistance more than we had found in books.

Shortly after the few less succesful trials of weaving more traditional cloth, Ellen found a nearby master weaver, Bessie Swain, and began taking lessons from Bessie. Bessie, and her husband, Howard, had been early members of the League of New Hampshire Arts and Crafts in the 1930's and she had taught weaving and other crafts for decades. The lived in a large, rambling, old New Hampshire home in Exeter filled with looms and other weaving equipment, most of it "saved" by them as the popularity of weaving waxed and waned through the years and any equipment in danger of being thrown away could fine a home with them. There were also many looms made by them and used to instruct young people in weaving.

In 1938, Bessie had founded the New Hampshire Weavers, an offshoot of the newly organized League of New Hampshire Arts and Crafts. The parent organization, now the League of New Hamshire Craftsmen, still going strong and operating several galleries in the state. and the New Hampshire Weaving Guild continues their craft.

We learned a lot about weaving and about life from Bessie. She was an inspiration and a Yankee through and through. We also got from her the tendency to acquire looms and other weaving paraphernalia.
Here are some of the overshot patterns woven during that time and later. The first is an overshot sample Ellen did under Bessie's tutelage. The rest are of various projects including one of a handbag using a small overshot piece.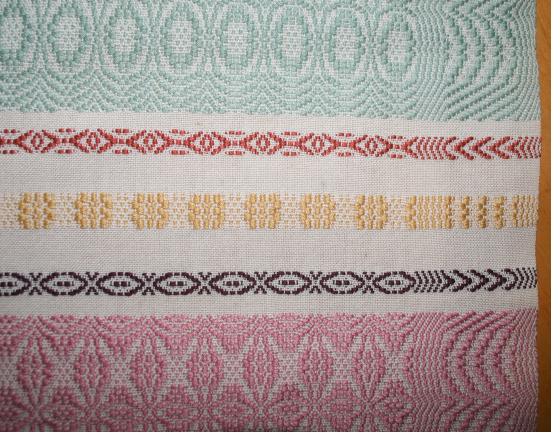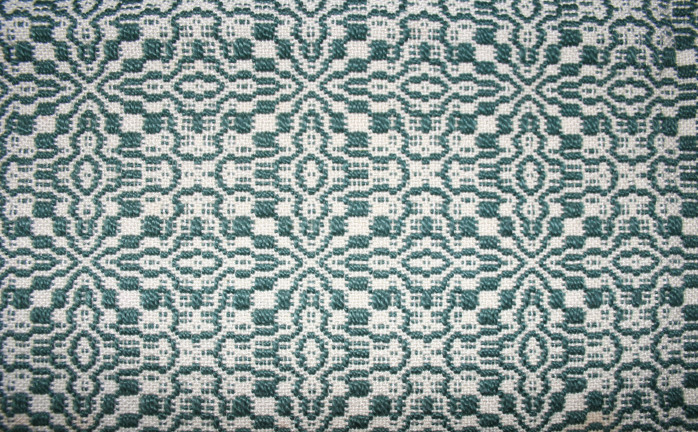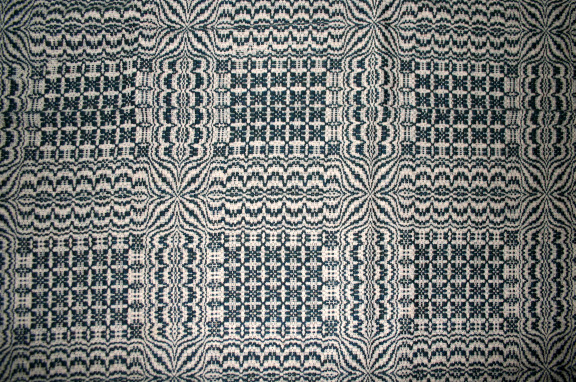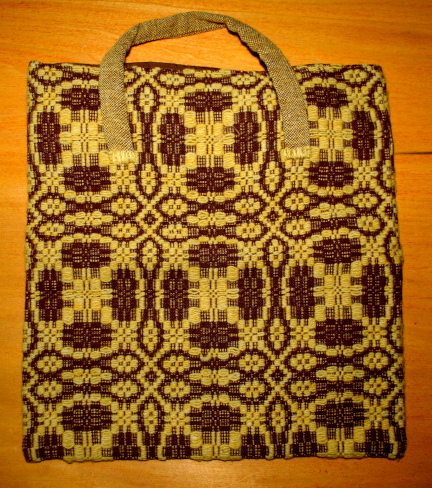 Soon after moving to New Hampshire, we purchased a small flock of sheep. Although we were intending to convert the farm to orchards, we wanted to use the land in the meantime for other farming purposes and raising sheep seemed a good idea at the time. There is more about our adventures and misadventures raising sheep on the New Hampshire Page.
And with sheep, comes wool, as they needed to be sheared annually. At first we had a neighbor shear the sheep for us, but soon were doing our own shearing and raising the lambs to add to the flock. At first we sold the wool, which was nearly worthless as the international wool market was dominated by the Australian producers. Wool from Australian sheep was largely from Merino breed of sheep, and was finer, longer, and had a better crimp for spinning than American produced wool. The Australians also sold wool through a huge conglomerate of producers, storing and stockpiling the wool to market it at the best time and price. And controlling the world price for their product.
Some years later, on a visit to Old Sturbridge Village, Massachusetts, a "living history" village and museum recreating New England village life from the 1830s, I picked up a copy of a reproduction news letter from that era. Among other things, the flyer had the then current price for wool, fifty cents per pound. Which was the exact same price we had gotten for our wool through the U. S. Department of Agriculture subsidized "wool pool". Not much progress in 150 years. It was soon after that we started selling our wool differently and also started sending some of the lambs to market each spring.
We found out about Bartlett Yarns, a small spinning mill located in Harmony, Maine, about a three hour drive from us. At that time, they did a "trade" arrangement, whereby a local wool producer would give their fleeces to Bartlett and get a proportion of the fleece weight back as finished yarn. That seemed a really good deal to us, and we soon ended up with a supply of Bartlett yarn for knitting. We soon had more than enough yarn for our projects and began to store the extra and soon were selling it from our Kitchen. And thus, Ellen was in the yarn store business and "Andes Yarns" was born.
Bartlett yarns was established in the early 1800s and spun its yarn on spinning "mules". These spinning machines spun yarn using a technique very much like that used when spinning by hand on an old fashioned "walking wheel". The machines in fact closely duplicated the motions used by a hand-spinner working with such a wheel. The rotating spindles of the spinning-mule machines first twisted the yarn as they rotated in a near horizontal axis briefly. Then the entire machine, with its multiple spindles, moved on a track across the mill floor almost the width of the building, imparting both spin and traction to the yarn as it spun. The combination of spinning or twisting the fibres while pulling on the growing yarn is what "sets" the spin and interlocks the fibers. The mules moved out to their full distance away from the head of the machine, which held the roving, the lengths of carded but unspun wool. Then the spindles turned vertical and as they rotated the entire machine moved back across the floor to its original position, winding the yarns onto the spindles. The process repeated until the spindles were full and the yarn needed to be removed by the attendant to continue the spinning process.
Yard to be spun is first carded into a "roving" in which the fibers of the wool were oriented mostly in the same direction, a circular direction around the circumference of the cylinder of the carding machine or the surface of the hand cards. Carding is a sort of combing using two fine metal comb-like surfaces moving in opposite directions to orient the fibers of the wool in mostly the same direction. When spinning, the wool from this roving was taken from the middle of the roving, producing a yarn in which the fibers tended to lie more perpendicular to the length of the yarn rather than more parallel to it. This type of spinning is termed "woolen" spinning and produces a softer "loftier" yarn, than yarn spun by the "worsted" spinning method. In worsted spinning, the yarn is carded to produce a roving in which the fibers are more aligned to what will be the length of the yarn and the spinning is done from the end of the roving to maintain that alignment. Worsted yarns are stronger than woolen spun yarns and have a more polished look and surface. They also generally are more durable.
Hand spinning on a "sitting" wheel or "flyer wheel" incorporates the two motions of twisting the fibres and pulling on them by having two parts of the spindle assembly that rotate as slightly different speeds. There is a central bobbin that rotates at a slightly faster speed than an outer U-shaped "harp" or "flyer". The roving enters through a hole in the end of the rotating assembly, which imparts the twist to the yarn as it feeds through hooks on the harp, then down to the bobbin, rotating a bit faster, to apply the tension. The wheel has two drive belts, or more often, one continuous belt which is doubled. One belt turns the whorl or pulley on the harp, the other the pulley on the bobbin. The bobbin and harp pulleys are of slightly different diameter, to produce the slight difference in speed needed to set the yarn. This spinning machine eliminatesa the spindle.
Spinning on a sitting wheel, a hand spinner can produce either "wool spun" yarn, the softer, lofty yarn in which the fibers are oriented around the axis of the yarn, or "worsted spun" yarn, the sleeker, stronger yarn in which fibres are oriented along the axis of the yarn. The spinner will alter the product by changing how the wool fibers are pulled from the roving and by either pushing or pulling them as they enter the spinning wheel.
And yes, as the years passed, Ellen expanded her yarn business to include not only knitting yarns, but yarns for weaving. And looms and other weaving equipment. And spinning wheels.
The yarn business expanded with our interest in the fiber arts. Ellen dealt mostly in natural fibers and did a lot with wool, from dying wool using plants growing on the farm and along the roads, to spinning, through weaving and knitting. We never returned to doing much Macrame during those years, except when Dale Schwichtenberg came to study and stay with us, through a connection with our friend, Mike Price.
There is more information on Andes Yarns and the farm life on the New Hampshire Page
Ellen's shop carried a wide array of equipment and supplies. She had spinning wheels from Ashford, Wee Peggy, and Clemes. Looms and accessories from Schacht and Harrisville Designs. And yarns for knitting and weaving.
Following are pictures of a small sampling of the many woven projects done during that time. We also collaborated with a weaver friend, Penelope Drooker, who lived nearby, in writing two booklets of weaving patterns which are shown on the Publications Page.
Scarves were always a good way to try out new yarns and experiment with patterns. There were multiple table looms set up in the yarn shop with four to eight harnesses to use for experimenting, for teaching students, and for sale.
Here are a few of the many scarves.

There were many twill variations, as above, and also some scarves using other traditional weaves, such as Huck, waffle weave, and ornamental touches such as the twisted warp border shown below.

And Ponchos, capes, tunics. These were also great ways to experiment with new yarns and combinations of different fibers. The first example is a tunic with matching hat and mittens.

Ponchos were also a simple way to use flat woven pieces of fabric. Here's one example using an ornamental "slub" yarn with a detail picture of the piece to show the texture. Below that is a photo of another piece done in "shadow weave", which gives a subtler texture and pattern.

We also wove plenty of fabric yardage. Here's one example, a plaid woven in fine cotton, which we used to make up an apron (shown) with matching place mats (not shown), napkins (shown), and coasters (shown). Just the thing for the co-ordinated host or hostess to use for a nice luncheon. Martha Stewart, eat your heart out.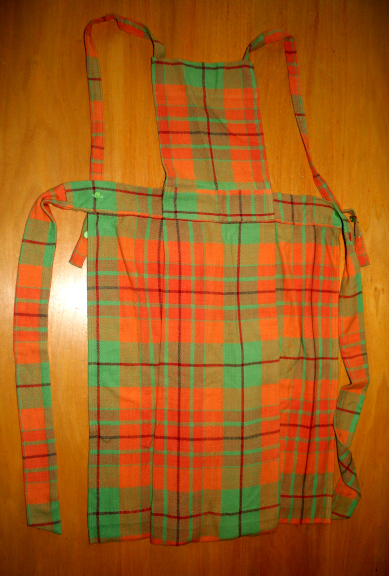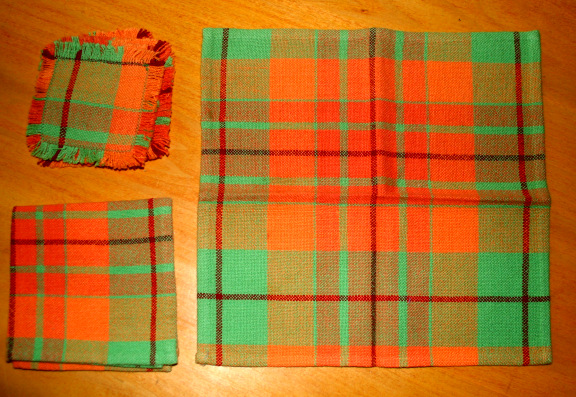 We also explored traditional tartan patterns and modified them to use for projects and especiall for yardage to make into clothing. Here's a picture of a modified tartan pattern woven with Harrisville Designs single ply yarn and made into a skirt and cape. The skirt is shown and below it, are two pictures from the Weave and Wear It series. On the left is the back cover and shows this skirt with its matching cape modeled by one of the women working in the Harrisville Designs office. This picture also shows a tunic top woven in the same yarn on the right and a Berber-style cloak by Penelope Drooker, also in wool, in the center. The cover of that booklet is on the right below and shows more cloaks, ponchos, and tunics from the instructions. Also modeled by the Harrisville Designs office staff.

Here's a woven coat in wool, lined with sateen, and combined with a knitted scarf from one of the yarns used in the coat.
And finally, a few pictures of the yards and yards of fabric we wove. Yardage that is still waiting for use. It is a big job to set up a loom and thread all the warp threads through the heddles, so we rarely made a warp of less than six yards length, and usually much more. So we ended up with plenty of remainder fabric, even when a project was done.
The first shows a simple twill weave in blue and white and is a nice illustration of the softness and texture that "fulling" woolen cloth gives.
And another example of the modified tartan patterns we made in Harrisville single ply yarn. This fabric is 100% wool and the piece is about 40 inches wide and six yards long.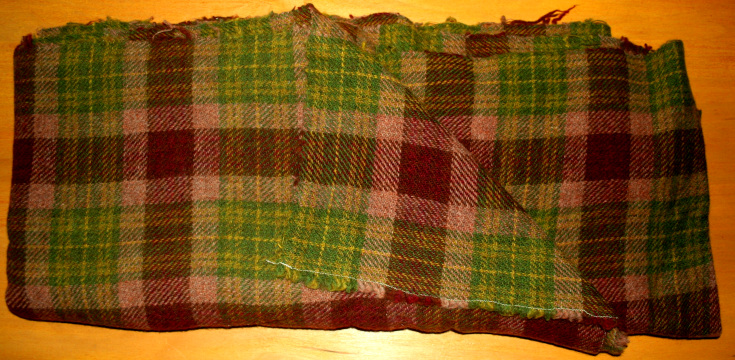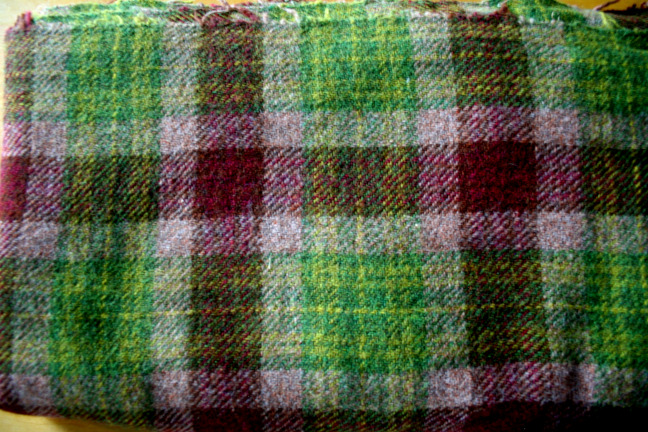 All these photos might represent about five percent of the weaving output during the lifetime of Andes Yarns. By the time we closed it to move overseas for a few years, it occupied about 1200 square feet in our barn and was full of looms, wheels, equipment and supplies. And plenty of yarn!.
In another example of the connections and coincidences in life, sometime around 1980 I met and worked for a time with Rolf Lium, a retired general surgeon. When our conversations turned to avocations, I discovered that his hobby was making Rya rugs. He made copies of famous impressionist and post-impressionist paintings into rugs 4 to 6 feet wide and 6 to 10 feet long by stitching wool yarn onto a fabric backing, using the row spacing and pile length of the traditional method of making these rugs. His work was astounding and beautiful. By that time, we were no longer making pile rugs, so it was a meeting that was about ten years too late.
When we closed down the yarn shop in 1986, Ellen sold off most of the inventory of equipment and yarns, but kept an eight harness Schacht floor loom, an eight harness Schacht Baby Wolf folding loom, and several table looms. And a spinning wheel. And lots of yarn. But when we moved to Oklahoma in 1994, there was little going on in the weaving/spinning area. In that part of the country, quilting was probably the most popular of the fiber arts.
The looms and sundries moved with us to Virginia, then California, but in both those places, there wasn't much weaving going on. Ellen got seriously into needle work in Virginia and continued that in California, but gradually did less and less weaving. She sold the large Schacht loom in Arkansas, the Baby Wolf in Santa Fe, and found a home for the Louet wheel and the last of the table looms with a friend in Santa Fe, who took them back to North Carolina to her home there.
Here are a couple pictures of some of the last weaving projects. These are small pieces done on the table loom. One is a sampler of various twill and overshot patterns. The other is a complex eight harness weaving of multiple Santas. The extra Santas from this project became sachets for hanging on the Christmas tree.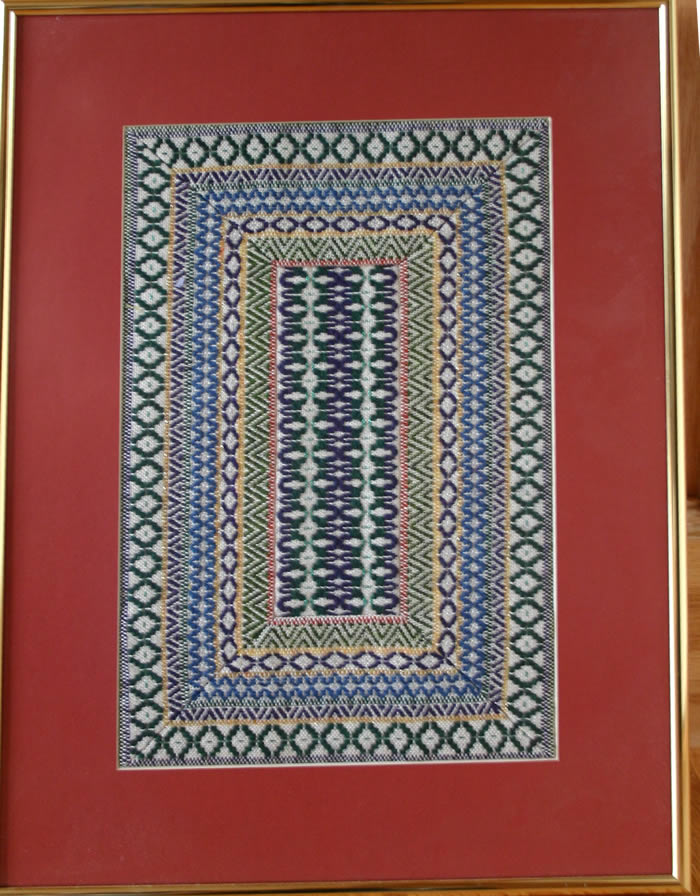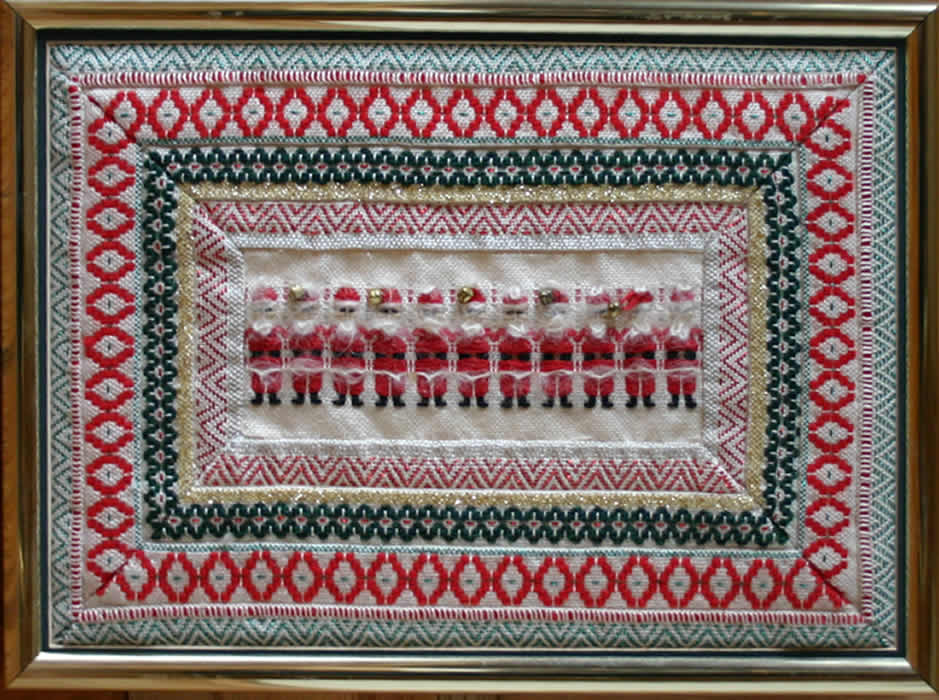 Weaving is a very interesting craft, which requires the practitioner to master the loom and the complex topic of pattern drafting and design. Since making cloth is such a basic part of civilization and since it has been done commercially for centuries, the amount of knowledge and experience available is huge and can't be mastered in a lifetime. But it is a wonderful pool in which to swim. Or even just a short dip. And the range of available materials to use in weaving is equally vast.
But weaving has a couple of drawbacks, which eventually had us moving on to other crafts. First, weaving is physically demanding work. Setting up a loom requires great agility as well as a great deal of time. Second, the larger issue is that weaving, for the most part, is not portable. There are small table looms that one can carry about, but the really fun and satisfying work is done on a floor loom. And most of the floor looms we used needed two people to move them around. Last, weaving requires lots of time and study and preparation before the first weft thread shoots across the warp shed. You can't just dabble in weaving. It requires committment of time and attention. And as we became more and more portable through successive down-sizes, weaving was supplanted by knitting and needle work. But we miss the weaving.